She is a fantastic midwife with so much experience and excellent advice
We just finished having our second child. Both times we selected Barbie as our midwife. She is a fantastic midwife with so much experience and excellent advice throughout the pregnancy process. When we first started looking for a midwife we didn't know Barbie at all and after having two children my wife and I both consider her more than a midwife, she is a good friend and specialist most excellent in her field…
Thanks Barbie for all you have done!
Ben and Rebecca
Barbie Burrage is the best midwife anyone could ask for!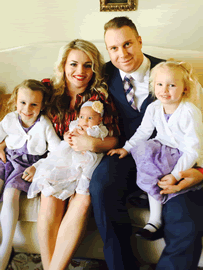 I have used Barbie for my last two births, and plan to use her again when we have another baby. She is knowledgeable, direct, organized, and devoted. This is truly her calling in life! After giving birth to my first daughter in a hospital, the experience was one that I would describe as unsupportive and difficult. After my hospital experience, I made the decision to do a homebirth, and I was referred to Barbie. Both birth experiences at home with Barbie have been wonderful. Giving birth at home, for me, has been a more peaceful experience. And my recoveries have been significantly easier and more relaxing for not just me, but my entire family. I would highly recommend Barbie to anyone considering a homebirth!
Jenny Black
In the coziness of our own home
Dear Mrs Barbie,
I have wanted to express our deepest gratitude of our absolutely beautiful first home birth! I delight in my sweetheart husband and building our many special memories of home and life with our kiddos! I relish the joys of motherhood! And to be given the glowing opportunity of giving birth to our darling son in the comforts of our own lovely home was a tremendous gift!! After having one birth center birth and my following four hospital births, all with epidural and a few induced labors, wow, I excitedly share the intrinsic beauty and tranquility our home birth offered!
In the coziness of our own home, amidst the soft flicker of candles, the labor and birth of our sixth child will always be etched in my mommy memory as the most memorable one! I have loved each birth to its fullest of what I knew up to my sixth and only then, did I realize the wholeness a home birth provided. Under your professional and loving care, I have learned more about the beauty and naturalness of birth.
Thank you so much, Mrs Barbie, for giving our family the gift of our "whole birth" at the place we love the most ~ our home!
Love, Miriam
Miriam
Quiet, warm, loving and just as we had prayed!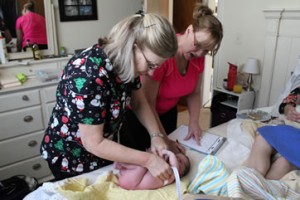 I found Barbie's website a few months before getting pregnant after a friend from nursing school had a successful homebirth and knew it was something I was interested in. Shortly after having our positive pregnancy test, I told my husband (who hates all things medical i.e. blood, bodily fluids and hospitals) about homebirth and he was quickly on board. So, I emailed Barbie and set up a consultation visit. We walked into a loving environment and immediately felt at home, nothing like going to the doctor's office! When we walked outside after that first meeting, my husband and I looked at each other and knew it would be the right choice. I was a little nervous about telling my friends and family about our decision to have a homebirth because of my medical background (I'm an RN) but I knew I wanted to give birth how my body had intended and not be constrained to timelines and rules.
Most people were supportive, but I did have a few that were concerned about the possibility of an emergency, but after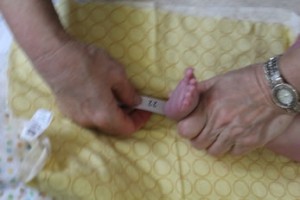 telling them of Barbie's experience and being confident in my choice, skepticism was generally turned into intrigue. People wanted to know if I would use medication (no) and where I would give birth (undetermined before, but I gave birth in our bed) and what we would do in an emergency (Barbie is well trained and has guidelines for emergency transfers to the hospital) and the best what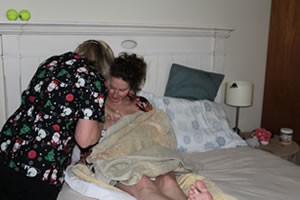 about the mess (our house was left spotless with a bag of garbage and a bag of laundry)? I loved going to my pre-natal appointments, getting to hear baby's heartbeat and just talking, and getting to
know Barbie and Althea. I felt so confident in their medical abilities and trusted their judgement. What I loved the most was the sense of responsibility for my pregnancy and being able to make my own decisions instead of them being made for me. Barbie's emphasis on healthy diet and taking care of your body while pregnant really changed our lives.
At almost 39 weeks my water broke at home, in a gush the way you see on movies, and then we waited and walked and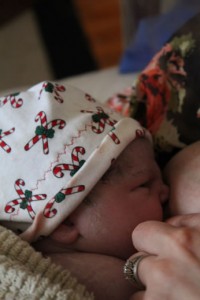 waited some more and finally things started happening. Almost 24 hours later we welcomed an 8lb 15oz baby boy into the world and I never felt more empowered or stronger as a woman. My husband helped catch baby and wasn't at all squirmy because somehow Barbie keeps everything so clean!!
We took our herbal bath, and Barbie helped me out of our tub, wrapped me in a warm towel and gave me a hug, and that is just how I will remember our birth experience. Quiet, warm, loving and just as we had prayed. Just a few short hours after birth, Barbie snuggled our little family up on the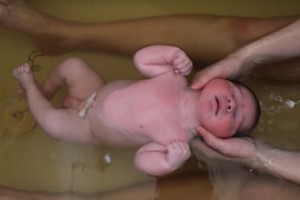 couch and left us to bond, without interruption, but knowing she was just a phone call away if we needed anything. It was amazing and I can't imagine doing it any other way. Baby's Birthday December 10, 2014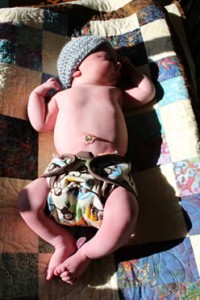 Brad and Taryn
I wouldn't trade the experience for anything!
I met Barbie when I was 18 years old (I am now 29). She was my moms midwife, her recommendations were high. My mom had four c-sections and then having one other home birth, she wanted a very experienced midwife. Barbie did a great job, and when my brother's cord was wrapped tight around his neck, Barbie very calmly knew exactly what had to be done. She cut and clamped the cord before he was completely delivered. Everything else went wonderful and I had a healthy baby brother. I then went to work for Barbie in her office in Coeur d' Alene. I was able to see first hand how Barbie loved babies and how she took care of the women she saw. She also knows how important nutrition is during pregnancy, so you get a nutrition counselor as well! Later when I was pregnant with my 2nd baby (my first baby was born in California with a midwife) I was able to see Barbie! I had a wonderful experience! She even let me birth on her bed as we were just moving at the time. I wouldn't trade the experience for anything. Barbie was kind, she made me very comfortable and I knew that I was in the best hands. Not only did she deliver my brother and my second daughter but she has delivered many of my very good friend's babies, as well as many other women I personally know.
Melissa Iverson - Coeur d' Alene, Idaho
Once I met Barbie I knew she was the midwife for me!
Barbie was referred to me by several ladies in the church I grew up in. Once I met Barbie I knew she was the midwife for me. Her experience as an RN gave me confidence that she would know how best to care for me and my baby throughout my pregnancy and the birth. Barbie attended three of my four births. The only reason she did not attend my fourth was because she had relocated to another state. Barbie is a professional in every aspect of midwifery. I would not hesitate a second to recommend her services to anyone seeking a midwife. Thanks, Barbie!
Rebecca Wilbur - Otis Orchards, Washington
I would recommend Barbie many times over!
I chose Barbie Burrage for our midwife because I had been referred by some friends who told us that she was a very reputable midwife. After delivering 6 of our children, I was convinced that she had to be the best midwife there ever was. The knowledge base she had for every situation was amazing to me, plus, who doesn't like someone who knows exactly what she's doing right by your side rubbing your back and reassuring you in every step of the birthing process. I would recommend Barbie many times over to anyone wanting a homebirth to remember!
Char Roemer - Spokane, Washington
I wish I had known her for the first two!
Barbie was my midwife for five out of seven births. I wish I had known her for the first two! I honestly believe a midwife needs to have a calling. Barbie has that calling. Her love, her intuition and her skills are well blended in her calm, supporting presence during births. I recommend her gladly and hope to have her at any future births I may be blessed with!
Christine Settanni - Post Falls, Idaho
My husband and I attended the Birthing workshop Barbie taught.
My husband and I attended the Birthing workshop Barbie taught when we decided to have our first baby at home. The practical, down-to-earth discussions and films, the opportunity to listen to the experiences of our fellow classmates and the steady sensitivity of our midwife at the birth, all combined to help us feel confident and prepared for the wonderful and joyful birth of our son at home."
Steve & Effie Ligon-Bruno - Hayden Lake, Idaho
Barbie has become one of our closest friends through this experience!
After our first birth ended in a Cesarean Section for reasons we know now to be unjustified, we attend the Birthing workshop Barbie gave. At that time, we became aware of the realities of hospital birthing situations which led us to investigate the possibility of home birth. We have now had two homebirths and would not have it any other way! Barbie has become one of our closest friends through this experience!
Bo & Pam Hankins - Golden, Colorado
We knew there had to be a better way!
Although we had prepared ourselves by taking "Natural Childbirth Classes" with our second birth, the experience turned out to be a nightmare in which the decisions and control were taken away from us. We knew there had to be a better way. The insight we received through Barbie's training and the motivation it gave us to search out alternatives, resulted in the uncomplicated, beautiful birth of our third child at home, where we were in control! We highly recommend Barbie to anyone wanting a beautiful homebirth!
Larry & Barb Howell - Post Falls, Idaho